Nov 24, 2011
Posted by Karen | Leave a Comment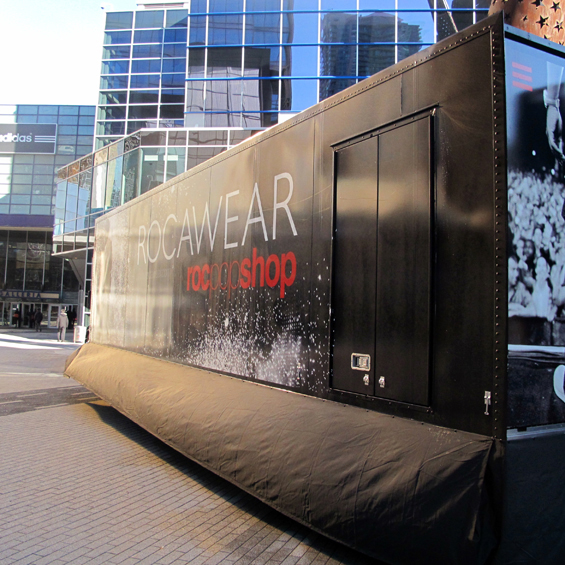 Well the early bird catches the worm, isn't that what they say?  I'm headed to the Jay Z concert tonight but had the chance to view the pre-opening of the Roc-A-Wear Pop Up Shop  earlier on in the day, prior to the customer rush. Thanks to Sandro over at Richmond Day Marketing, I was given a sneak peek while the crew set up, cleaned, folded and made things are all things Jay Z. The shop crew worked frantically, just pulling in from Montreal only a few hours prior to landing in Toronto. The team hung various Jay Z posters and filled the racks with the controversial Occupy WAll Street tee's. But the best part of my morning happened when the man himself showed up! Yes, Jay Z showed up to the shop….or at least I thought.
While watching the team in action, the shop doors flew open and the a member of the shop team yell's "Jay's here!"  Like any true Jay Z fan; my heart stops, sank and revives itself (all in that order) in a matter of 30 seconds.  I will admit, I thought I was about to pass out for a split second. This 6-3 frame with (what I believed to be) similar Jigga-like features walked through the door.  I said this ever so lightly "WTF, this couldn't possible be happening to me, could it?"
Alas, the gentleman was only part of the shop team….lol. Who obviously must be related. Thank God I kept my composure, I would have been writing an entirely different story at this exact moment. Well, back to work I went taking pictures. At least I know my heart will go  on for the concert tonight.
I've been told that Jay, Kanye and Beyoncé, often hang out in the shop playing video games.
If you're at the concert tonight send me a tweet, comment @iamwhatshot
Thanks Sandro & Tony.
Check out the pics.
Roc-A-Wear Shop
Air Canada Centre Grounds
Nov 23rd & 24th
Open: 11am – till.
Read More