Jan 17, 2018
Posted by Karen Bishop in FOOD, HEALTH | Leave a Comment
Recipe: Gluten-Free Cacao Cranberry Loaf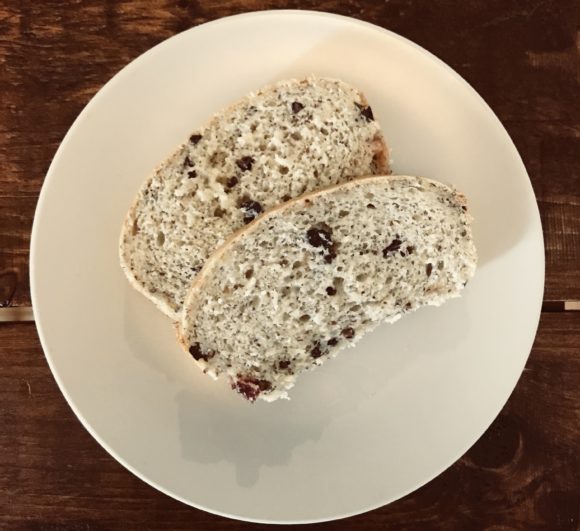 I'm not a lover of cooking. I mean, I don't like long prep times to prepare meals. If I can spend less than 20 minutes in the kitchen to make a meal, I'm all for it. Anything beyond that, I get a bit antsy. Okay, I'm exaggerating a little (not really) Christmas breakfast took me at least one hour to prepare. Not including the slow baked ham.  So the holidays are an exception.
It's a new year and with a new year comes new goals. My number one goal is to keep to a solid healthy eating routine. I don't mean simply minimizing the amount of bad food that I eat but really making an effort to cut them out of my diet permanently. My number one priority is to eliminate all gluten.
In general, I'm conscious of what I eat. I very rarely eat white flour, drink pop, or fried foods. I drink lots of water, not always a full 8 glasses but I get up there. I do occasionally have a sugar and bread binge but eventually I get back on track. Since being gluten-free is my priority and snacking tends be a  weakness, I've decided the best way to control my gluten intake (especially when I crave sweets) is to make my snacks from scratch. I'm not sure how long the Betty Crocker effect will last. Remember, I'm not one for slaving away in the kitchen for too long.  But at least, I can feed my occasional craving in a fairly healthy way.
Enter in my gluten-free-cacao-cranberry loaf….
A personal recipe inspired by whatever I had sitting in my kitchen cupboard (mostly). It was only my third time making the loaf but it's been a life saver for breakfast or as a quick snack. And the best part is it only takes 20 minutes to prepare. Like I said, 20 minutes or less and I'm a happy camper!
Bon Appétit!
________________________________________________________________
PREP TIME: 20 minutes or less
COOKING TIME: 30 – 40 minutes
INGREDIENTS:
1 cup of gluten-free flour
1 cup of brown rice flour
1/4 cup of flax meal
1 tablespoon of baking soda
1/2 cup of organic cane sugar (1 cup if you want a sweeter taste)
1/4 cup of organic cacao bits
1/4 cup of cranberries (fresh, frozen)
2 1/2 cups of Almond milk (3 cups if you want to make the batter a bit thinner)
1 tablespoon of coconut oil
1/2 tbsp of nutritional yeast
INSTRUCTIONS
Mix the brown rice flour and gluten-free flour in a large mixing bowl with a fork. Then mix in the baking soda, nutritional yeast, flax meal, again continue to use the fork. Then mix in the cane sugar.
Once all of the dry ingredients are mixed together, add the milk, cocoa bits and cranberries and then mix everything together one last time. Let it sit for a few minutes and dust a bread pan or cake pan with a bit of flour and pour in the mixture. Put in the oven.
Let bake for 30 minutes or until brown at 275 – 300 degrees. To ensure the middle is cooked insert a butter knife or toothpick in the centre of the cake. If it comes out clean with nothing sticking, the cake is done.