Feb 14, 2018
Posted by Karen Bishop in LIFESTYLE | Leave a Comment
My Top 5 Treat Yourself It's Valentine's Day Gift List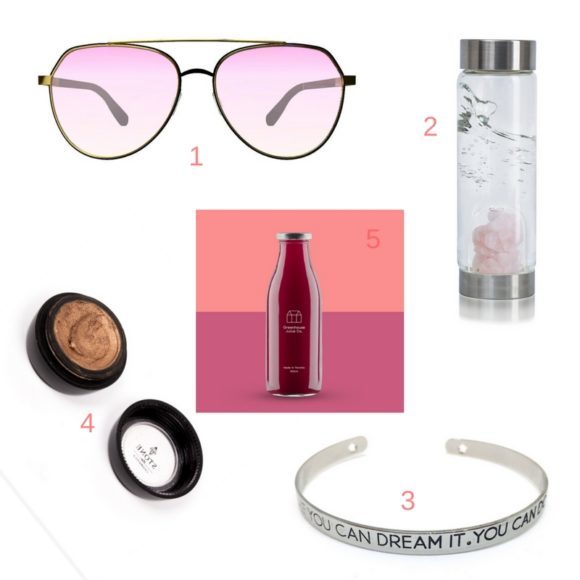 Happy Valentine's Day ladies!
Whether you're kicking it solo today like your's truly or you have a wonderful significant other to spend some time with, let's celebrate with a little self-love and treat ourselves today. I don't mean go break your bank account, or anything like that. But you work hard, so let's take something off of your never ending wish list, shall we?
A little retail therapy never hurt anyone, especially today.
So, I give you "My Top 5 Treat Yourself, It's Valentine's Day" wish list…
First up, the Bond Aviator frames by luxury eyewear brand Bôhten. Their eyewear collection has a classic yet modern-funky feel to it. Toronto entrepreneur Nana Boateng uses reclaimed wood from Ghana to create each piece.  Everyone looks cool in aviator frames but with pink lenses, com'n! I love them. The brand is launching their Bohten5 collection this summer.  The Bond frame is one of the first pieces that combine both wood and acetate materials.
Price: Not currently listed on their website.  A current pair can start anywhere from $150.00 or more.
2. VitaJuwel "Cupid's Kiss" Water Bottle
The VitaJuwel water bottle (available at Ka-space concept store) is the mother of all water bottles. It's not only pretty to look at but the Vitajuwel system infuses your water with carefully selected gem stones. The balance of the two, helps to release the stones energies and healing powers.  Different, right?  Each bottle has an exchangeable bottom piece (a gem pod) that holds the gem stones in place. You can exchange the gem pods to infuse your water with different gem stones. The Cupid's Kiss bottle (shown) has a rose quartz gem pod that is said to release emotional wounds and trauma and to bring peace and calm.
Price: $160.00
Love & Light Jewels uses a number of gemstones and crystals throughout most of their jewelry collection. It's hard to choose just one item to love but their Wear Your Words Bangle caught my attention. The simple, adjustable bangle is a stylish way to carry around the "If you can dream it, you can do it" mantra.
Price: $20.00
Green house has a number of cold-pressed juices, handmade nut milks, tonics, boosters and cleanses if you're looking for a healthy way to get in your daily nutrients.  On my list for two reasons;  I love beets and their Deep Root Juice is mixed with beets, apples, carrots, celery and lemon and they deliver right to your door with their customizable monthly subscription service.
Price: $10.50 bottle, subscriptions vary.
I have a thing for natural colours and earth tones, especially with makeup. Many of my friends often tell me to add some colour to my already limited makeup collection. So, I bought a bold red lipstick. I know, different (insert rolled eyes here). Stone Line Cosmetic's Gold Eye Shimmer caught my eye. No pun intended. Their cruelty-free brand is hypo-allergenic, fragrance and paraffin free. The line was designed with women in mind, who tend to break out when wearing makeup for long periods of time.
Price: $17.70
And there you have it. Five affordable to semi-affordable ways to treat yourself this Valentine's Day. What's on your wish list today? Any plans to treat yourself?